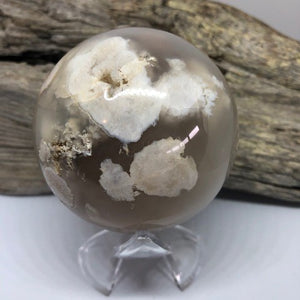 Flower Agate Sphere
Dimensions : 2.5" Weight : 15.4 oz.
Like a cherry blossom tree blossoming into their fullest bloom, working with Flower Agate Touchstones will encourage you to blossom into your fullest potential. Not just a stone of new beginnings, this is a stone of pure transformation and growth that will carry you through the new year.
The Flower Agate touchstone meaning is all about joy and reviving your zest for life. Imagine the feeling of running barefoot through gorgeous fields of flowers -- that's the feeling of freedom and pure bliss that Flower Agate touchstones connect you with. Hold these stones in your hands to reinvigorate your love of life and your ability to find joy in every moment. This stone is particularly useful for those looking to reconnect with joy and happiness after a challenging time. If life's got you feeling down, connect with the Flower Agate properties to lift your spirit back up.

Tap into the zest for life and energy of growth that a Flower Agate touchstone carries and you'll be well on your way to blossoming into your highest self in all areas of your life.